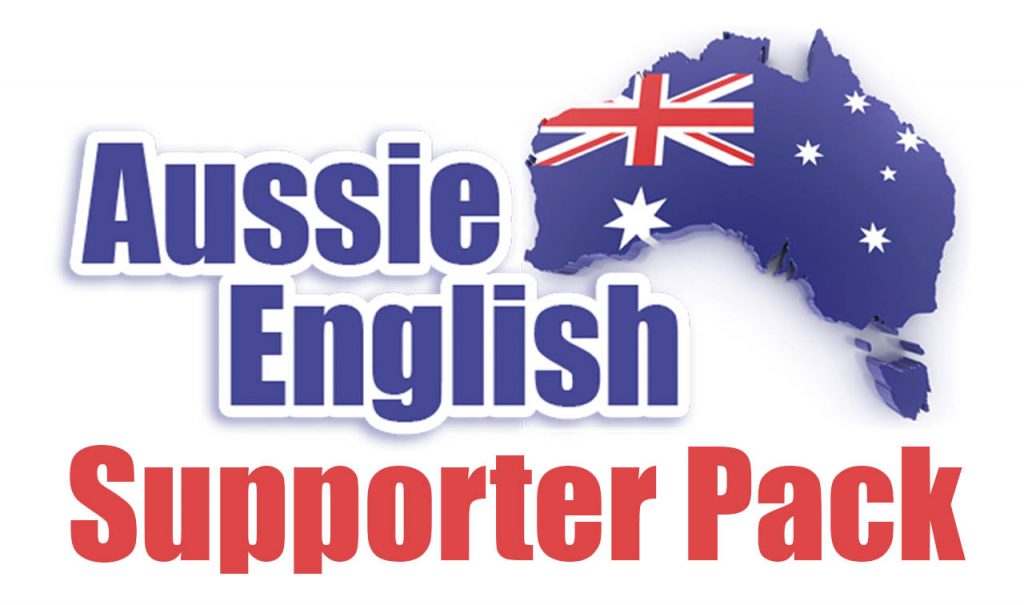 Announcement: $1 for a 1-month trial of the Aussie English Supporter Pack
Announcement: $1 for a 1-month trial of the Aussie English Supporter Pack
G'day guys.
Welcome to this episode of Aussie English.
Just a little announcement episode today.
I want to talk to you about the Aussie English Supporter Pack and what we're up to with that, how it's unfolding, how it's evolving, and becoming better and better every week.
So at the moment I have just implemented a trial period for anyone who wants to sign up for the Aussie English support pack and try it for a month.
It will only cost one Australian dollar.
So when you sign up you get 30 days of access to all the past episodes and to the virtual classroom where you get to hang out with me and a whole bunch of other hard working ESL students who are working on their English with activities and exercises every day, and just sharing their thoughts and anything related to English.
So the community's slowly growing.
On top of that at the moment I'm doing a little bit of a revamp.
So I'm trying to change things up and improve things constantly.
And more recently I've decided to allow the Aussie English virtual classroom students to decide on the episode theme or subject once a week.
So the expression episode this week, for example, has been decided by one of the students Khoi and you'll see that when it comes out later on this week.
And also I have decided to try and make lesson exercises a lot more thorough.
So up until recently I had been doing two episodes a week, but I might wind that back and only do one a week, but a lot more in depth, because it seems like you guys have a lot of different things that you want to work on.
Some of you want to work on listening.
Some of you want to work on vocab, phrasal verbs, slang terms, pronunciation, connected speech and grammar.
And so I've decided that I'm going to try and touch on all of these things in one large thorough episode per week where I have say an expression episode and then I'm going to have a whole series of exercises for you to do following on from that expression episode.
So for example, I'm going to have a vocab glossary where you get the definition of all of the more complicated vocab used in that episode as well as an example sentence that I come up with to give you context, and as well I'll show you where it's used in the episode.
I'll also give you a vocab table that you can fill out, and you get to fill it out with the definition of the vocab that you heard or that you read about in the glossary that was in the episode as well as the synonyms that you saw in the episode so you can fill that out.
And forgive me, I'm losing my voice a little bit at the moment because I have been a little unwell.
(I've) been under the weather.
So we got the vocab glossary and the vocab table.
Then we've got listening comprehension questions where you get to go through the episode and listen to it.
And I have questions in order throughout the episode for you to answer as you listen to the episode.
So if you're working on listening comprehension, say for the IELTs, this is a really good exercise for you.
I'm also going to have a substitution exercise, which will be focussed on phrasal verbs, because I know how difficult these are for you guys.
So I'm going to try and focus on a phrasal verb once a week so that you guys can build up that phrase verb vocabulary in your spoken English.
And then also try and have a pronunciation or connected speech exercise in there, 'cause I know a lot of you guys want to learn things like "wanna", "gonna", "should", "woulda", "coulda", "whadayawant", all those sorts of connected speech and pronunciation changes that natives use that is the way that native speakers speak.
So I know I want to help a lot of you get to that point where you sound like a native, where you pronounce things like a native, where you connect words like a native.
So I'm going to try and incorporate that.
And then I'm going to have a grammar exercise for you guys and this will be where we go over things like the different past tenses.
Maybe I'll compare them one week.
Or maybe we'll go over the use of the prepositions "on" "at" or "in" in another episode. That's what I'm really wanting to do.
So that's enough for this announcement episode.
The Aussie English support pack you can now sign up for one dollar, one Australian dollar, that's about 70 US cents.
It's not very much.
And you'll get 30 days of access to the Aussie English Supporter Pack before you get charged the full fee.
I know you guys are really going to love this when you get in there and just have a lot more to do with Aussie English and shape the direction of where the podcast goes and help me create the content that is best for you.
So if you're a serious English student who is wanting to take their spoken English to the next level and their comprehension of Australian English to the next level then I really recommend at least giving this a try for one dollar.
You get 30 days.
You can see how it is.
You can try the virtual classroom and meet everyone.
You can try all the previous episodes.
And then if it's not for you, for whatever reason you decide that you don't want to continue with it you can unsubscribe before the 30 days is up and you won't be charged the full fee.
Anyway, guys that's enough for this episode.
Sorry again about my throat and my bad voice I'll chat to you soon.
All the best!
Here's what you get when you sign up!
Read while you listen using the Premium Podcast player.
Understand every word in every episode.
Download all PDF transcripts and MP3s for 600+ episodes.
Get access to bonus member-only episodes.