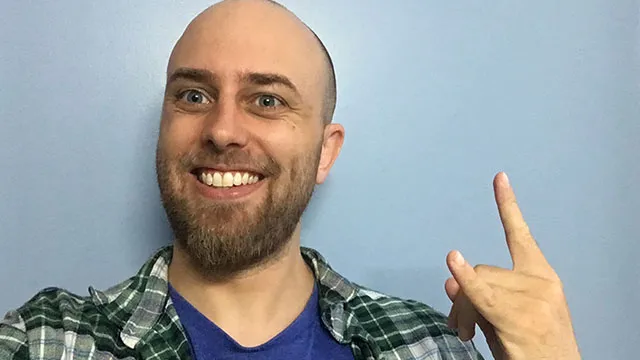 AE 505: Kel & My News & 7-Day Epic Sale!
---
---
Watch the video here:
---
AE 505: Kel and My News & Epic 7-Day Deal!
G'day, guys. What is going on?
I thought I would do a quick video tonight, because I've got a few announcements and I also thought I would just give you an update as to what I'm doing and what… I'll just put this chair up a bit so that I'm not feeling like a really really small person. All right.
So, announcements wise, I have just enabled the 3-month and 12-month subscriptions to the Aussie English Classroom for the next week. Okay. So, you can go to the Aussie English classroom, this is my online classroom where I put up a weekly courses designed to teach advanced English, expressions, vocab, slang, pronunciation, all of that kind of stuff, and yeah, I've made this deal to say thank you to you guys. There's been a lot of members who have been around for I think up to two years now. Some of you guys have been there for two years, which is absolutely insane and this is my way of saying thank you. Thank you very much.
I want to reward you guys who sign up for long periods of time and who plan to be in the classroom for a long period of time. So, as of today, for the next seven days, what is today, the 14th, so until the 21st of November, 2018, you will be able to sign up and get three months and save 18% or get 12 months, an entire year, and save 55% percent. Okay.
So, go down, press the link in the description, or just go to theAussieEnglishclassroom.com, go to enrol, and you can sign up and do that.
And if you are already a member, you can go to My Account > Subscriptions and just upgrade your subscription. Anyway.
That aside, let's get into some announcements, guys.
Kel and I are getting married this weekend. So, that is pretty cool. I'm pretty excited about that.
We have been wearing our rings for the last two weeks or so, because we've just got to be excited and they had come in the mail, so we're going to sort of phased about putting them on on the day. We're sort of unconventional and not very, I guess, conservative with regards to our views of marriage, etc..
So, we've been running around in our rings. you have seen that ring popping up in videos. I don't think you will have noticed if it was on the podcast that you were listening to. But that's been interesting. It's taken a while to get used to having the ring on my finger, and also, just pulling it off and putting it on, pulling it off, putting it on, every time I go to the gym, because I don't want to destroy it from all the metal handles and things in the gym. So, I have to constantly be taking it off and making sure that it's kept safe and sound in my wallet.
So, anyway, (we) took them off today, put them in the box, and we have another four days until we get married. We're getting married on Saturday, and it's not a conventional marriage, it's a bit different. So, we're doing a very low key, meaning there aren't going to be many people there. It's not going to be incredibly extravagant, incredibly overdone. It's more just that we want to have a small ceremony and then just hang out with our closest friends.
We also didn't really want to have a lot of family, at least I didn't, because I'm kind of modest like that. I don't really like a big fuss. We didn't want to have a lot of family because it Kel's family's all in Brazil. So, it's… it would be my side full of people and it would be her side with no one there. So, we decided not to really have anyone there. I think there will be easily less than 20 people who come to our wedding.
Where's it going to be? It is going to be at a distillery, a whisky and gin distillery, down here on the Bellarine Peninsula, which is really cool. We found it, and it was a really crazy story. We'd met this celebrant online because we have to find a celebrant, the guy who marries people. We found him online. We went up to Melbourne, met him, did all the forms, had a chat about what we wanted, and then he suggested a few places around Geelong that we could get married at, and we hadn't really had anything in mind. We were just thinking of doing it at the beach or doing it at our house. He suggested this and we checked it out and it was awesome. Really nice place, lots of wood, really cosy, the outdoors is really nice, there's lots of trees and chairs under the trees, and one of the trees there is full of these purple flowers at the moment. So, we'll be getting married underneath that.
So yeah, it's going to be… I think it be a really good day. I don't know. I Kel says she's okay with it. She doesn't win a huge thing either, but I don't know. I think girls always want that kind of thing for their wedding. So, I hope Kel's not too disappointed that it's going to be very small and yeah casual. So, I mean I'm not even going to wear a suit. I'm going to be wearing a shirt and some nice pants and some nice shoes, but we just kind of wanted to save our money and not spend a lot of money on things that we're never going to use again, right, or the things we will never be able to sell, right. So, like rings, we didn't go absolutely out of control and buy a heap of really expensive rings, or at least two rings, that are very very very extravagant and expensive. We kept a pretty modest, because it was more about what they meant than how much they were worth. And we don't really had a lot of money, so there's that as well.
Okay, aside from that, we're currently looking for houses, which has been interesting… We've done this a lot. So, we're getting to be pros at finding houses and yeah we're looking for houses in Ocean Grove at the moment. That would be good.
Kel is almost at 12 weeks with her pregnancy. So, she will have her scan in 10 days, I think, 10 or 12 days. We will be going to get the very first scan for the pregnancy. So, that's when I think it will really sink in. I think that's when it's going to hit home, and I really realize, oh, shit, I'm going to be a dad, because up to now, I've had no real… I don't know, I haven't felt anything, I haven't seen anything, I haven't experienced anything, aside from what Kel has told me. Right? So, I can imagine for her with the hormones going up and down and up and down, feeling sick in the morning, having morning sickness, feeling energetic at other times, that sort of rollercoaster ride that she's experiencing, I think the pregnancy for her is obviously a lot more real. She's experiencing it firsthand. Whereas I just see her externally, on the outside, and all I see is someone who is feeling sick quite a lot, who then is energetic and wants to do things, and it's sort of up and down.
So, it hasn't quite sunk in, it hasn't quite hit home with me yet, but I think once I see that picture of the baby that's when my mind is going to be blown and I think it will start really sinking in. So yeah.
What else have we done recently? I'll be doing loads of photography. Getting into that. And I set up a photography channel on YouTube. So you can find that if you're interested in seeing me run about and take photos. Unfortunately, there's no subtitles on it, 'cause that just takes a long time, and the majority of people watching that I assume will probably be English speakers.
So yeah, I've been doing that, running around, I love vlogging, I love sharing knowledge, and I love learning. So, that's why I'm sort of doing that on the side too, although, I'm trying not to get too distracted and to keep doing I English, obviously.
We released our first IELTs episode on the podcast as I'm sure you guys have noticed. Feedback's been really good since then. I hope you guys enjoyed it. I had one person complain and say, too much Brazil. Too much Brazil, Pete! You're talking about Brazil way too much. And, sorry guys, sorry if I'm talking about Brazil too much at the moment. Obviously, it's a big part of my life. You know, Kel's Brazilian. I did jujitsu that's Brazilian. I've lived with a whole bunch of Brazilians. So, that's why I've been talking about it recently quite a bit. It's just had a lot to do with my recent life. But I will try and branch out and tackle other kinds of topics, you know, I'll try to interview more people as well in the near future and cover new topics about all kinds of things. I'm trying to get Wildman back on the podcast and on the YouTube channel as well. So, that's been happening.
Today, we also recorded another episode for the podcast with Kel just an interview episode talking about house hunting and how to find a share house or how to rent a house for yourselves. So, that's been about it.
And aside from that, it's just, for me, it's working, working, working, and saving as much money as possible to put aside for the baby, because, for us, we because of Kel, this is an interesting thing too that may help you guys. We weren't really sure what was going to happen with paying for the medical bills, 'cause Kel's not a citizen, she's a Brazilian, and she's just on a student visa. She doesn't have permanent residency or anything like that. So, she's got health insurance, fortunately, which she had to pay for before coming to Australia and that's saved our arses. That saved our arses.
So, if she hadn't had that insurance, it would have cost us $5,000, pretty much all of my savings, I think combined we had a bit more than that. That would have cost five grand assuming everything went well during the pregnancy. So, that's the Medicare sort of coverage, right? You go to the hospital, they need five thousand dollars, and that'll cover everything if the birth goes smoothly. If everything goes to plan.
However, if you don't have insurance, and you need a Caesarian, or you need surgery, or something else, that can be up to $30,000 dollars more. A Caesarian is $30,000 Australian.
So, fortunately, we had saved up thinking we would have to pay for the $5,000, and just knock on wood and hope she didn't need a caesarean or get a loan if she did, but if she found out she had insurance and that the insurance, fortunately, covered pregnancy. Okay. So, that's a good thing.
But still we don't really know what's going to come up and what could happen in the future with regards to giving birth, having the child, the expenses related to that. So, we're just saving, saving, saving and living on the cheap as we say, living on the cheap. Trying not to spend a lot of money, which for me is harder than it is for Kel. I think, Kel's pretty used to not spending a lot of money, but I like eating food out. I like doing things. II like buying camera gear. I like drinking coffee. And so, it's a little more difficult for me to sort of rein it in. You know that expression, to rein it in, like a horse, use the reins, rein it in, and not spend too much money Anyway, that's about it recently.
Saving for the baby, also trying to save up for a deposit for a house, which is going to be like $50-$60,000. We are like one sixth of the way towards that. That is crazy. You need… and that's 10 percent. That's a 10 percent deposit on a house around here. It's half a million dollars at least. Half a million to get a house here. Just to get a loan from the bank and they won't give you a loan unless you have 10 percent already put aside. So, yeah, looks like we're going to be saving for a while. That's about it, guys.
Don't forget, if you want to make the most of that deal for the Aussie English Classroom, that's seven days left. So, make sure that you go down below if you're watching this on YouTube. Go to theAussieEnglishClassroom.com, click 'Enroll', and you can sign up for a month if you want to try out for a buck, you can sign up for three months and save 18%, or you can sign up for one year, really get into it, really level up your English for a long time and save 55%, guys. It's an amazing deal. It's my way of saying thank you to you and rewarding the more serious students who are trying to take the English to the next level. I will stop talking. Thanks for joining me, guys, and I'll see you in the next episode.
Peace! Wish me luck. Wish me luck!
---
---
Here's what you get when you sign up!
Read while you listen using the Premium Podcast player.
Understand every word in every episode.
Download all PDF transcripts and MP3s for 600+ episodes.
Get access to bonus member-only episodes.