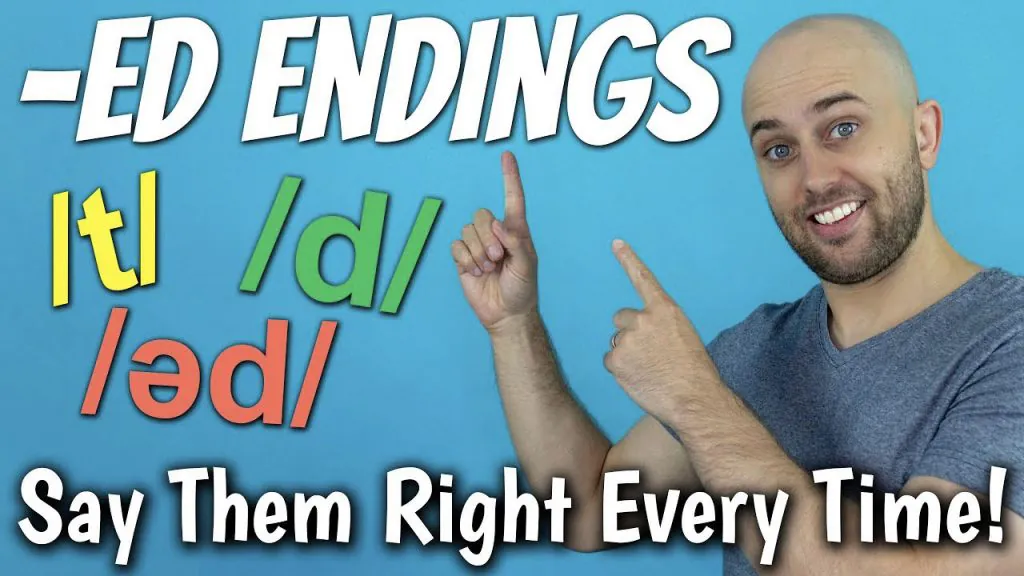 AE 541: HOW to PRONOUNCE Past Participle -ED Endings in ENGLISH
---
---
---
AE 541: HOW to PRONOUNCE Past Participle -ED Endings in ENGLISH
My God! So hot today, guys!
I'm in this studio and it is hot. It is hot. So sorry if I get a little bit shiny during this episode. Anyway, guys, welcome to this episode of Aussie English. I am Pete, your host and today I want to help you learn how to pronounce words, verbs, ending in ED. Ok? There's three rules. They're easy Let's do this!
Alright, so there are three rules in English and that is because there are three different pronunciations of ED in English for these past participial words, right?
Why three rules? What the hell? Why are there three different ways of pronouncing these words? The reason is because the ends of the words, the end of the verb onto which you put the ED, the sound that is made there determines how the ED is pronounced ok? And mastering this is going to help you sound much more like and native when you speak English.
Ok, so the three different sounds are
You guys probably already know this, but we need to learn when and why to put them in certain places. Ok? Alright, so rule number one, guys, rule number one is that when a verb, in the infinitive of a verb ends with a vowel sound or a voiced consonant you need to put /d/ on the end of it, right? and /d/ is a voiced consonant, you should be able to feel vibrations in your throat and they're voiced, vowels here and obviously the consonants, because there are vibrations in the throat so, you can check that by putting your hand here when you say the words. So, for example:
Appeared
Appeared
Its voiced.
Appeared.
Borrowed.
Borrowed
Arrived
Arrived
Paused
Paused
Killed
Killed
Cried
Cried
Judged
Judge
Weighed
Weighed
Alright, rule number 2. So, now when you have a word that ends in a consonant that isn't voiced there's no vibrations in the throat that the sound that you have to use is an unvoiced consonant unvoiced ending, unvoiced consonant. So, for example:
Asked
Asked
It's not voiced, no vibrations
Passed
Passed
Danced
Danced
Pushed
Pushed
Reached.
Reached
Fixed
Fixed
Laughed ha ha ha ha laughed
Stamped
Stamped
Alright! And the last rule, the last rule is that when a verb already ends with one of those two sounds that T or the D we need to add a vowel in there between those two sounds so, that it sounds more natural when we say these words and we put the schwa in there. Ok? So, for example
Wanted
Wanted
Needed
Needed
Waited
Waited
Aided
Aided
Cheated
Cheated
Ended
Ended
Good job, guys! So, that's really all there is to it. That's all she wrote. That's all there is to it! So, recapping, let's go over things again. Rule number one: you need to put a /d/, a voiced /d/ sound on the end of a word that has a voiced sound at the end there can be a vowel or that can be a voiced consonant for example:
Warned
Played
Phased
Rule number two was we put a /t/ sound
On the end if the end of the word is a consonant that isn't voiced, no vibrations, for example:
Walked
Fetched
Flipped
And then if the word already ends with a /t/ or a /d/ sound, a T or D we need to add a schwa and a /d/ sound on the end, for example:
Waited
Needed
Wanted
Alright, great job! You've done really, really well. Now, let's do a little quiz here, guys. So I'm going to say a bunch of words, I'm going to say the infinitive first and I want you to convert this into the past participle, see if you get the pronunciation right, and then after that I'm going to say the past participle so you can check if you nailed it, ok? So let's do this!
Look
Looked
Puff
Puffed
Need
Needed
Plaster
Plastered
Watch
Watched
Play
Played
Bake
Baked
Evolve
Evolved
Change
Changed
Warn
Warned
Stab
Stabbed
Face
Faced
End
Ended
Great job, guys! Now, I know these will suck. They are hard to learn, but practice makes perfect. Keep going over these things, keep doing these pronunciation exercises and that's the best way to learn them subconsciously so, you don't have to think is it an /ed/
Is it a /d/ is it a /t/? Do these exercises. Now, if you want to go through the hundred top verbs in English where we do this exercise, you want to get the bonus content to this video, as well as my other 50 advanced English courses go to theaussieenglishclassroom.com you can sign up and try it for a month and you will get instant access to all that stuff, guys this is a great way to improve your English.
Quickly, other than that I am Pete the host of the Aussie English podcast if you're not listening to this podcast already, you can download it via any application of your choosing, just do a search for Aussie English on any podcast app and download your first episode today for free and start levelling up your English.
Thanks for joining me, guys. I really appreciate it and I'll see in the next one. Peace!
Oh my God, guys. Such a hot day. Looking forward to winter. It's funny in Australia. You get like, at least here in the South, you get a summer that's long enough, that just starts disappearing into winter and you're sort of like, yes! Finally winter and then winters sort of long enough that you want summer at the end again.
---
---
Here's what you get when you sign up!
Read while you listen using the Premium Podcast player.
Understand every word in every episode.
Download all PDF transcripts and MP3s for 600+ episodes.
Get access to bonus member-only episodes.