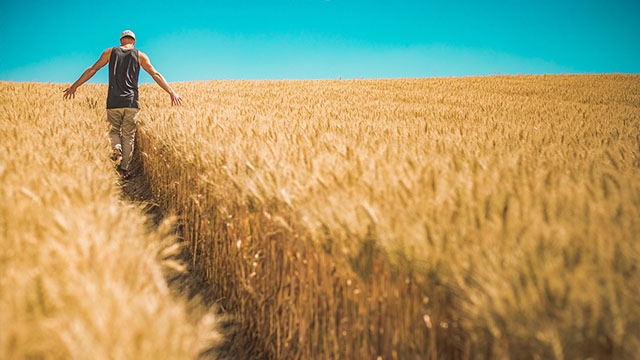 AE 494 – WWP: A Change in Direction for Aussie English
Learn Australian English in this Walking with Pete episode ofThe Aussie English Podcast where I chat to you about a change in direction for Aussie English.
Subscribe to the podcast: iTunes | Android | RSS
---
---
AE 494 – WWP: A Change in Direction for Aussie English
Well… that was a big fail! I was about to go for a Walking with Pete when I got ready, got my mic set up, got my phone here that I'm recording on and I went to walk outside…. Just opening the back door so so I can go outside, I wanted to walk outside to get my little walk and realised that it was raining. And now here is just as bad.
There's cover there, but the rain is coming from the south…. Squishy shoes and wetting everything under the balcony there.
Anyway, let me try this side of the house… This looks better. Here we go, no! cat's trying to get outside. Alright, so outside so, we're back… we're back in Melbourne. We just move back.
And Kel and I are living at my parents' place. They're over in Britain at the moment. Travelling around for five weeks and we are taking care of their cats. So, that's been good fun. It's nice to be back down near the beach, near family, near my sister and her husband or boyfriend. Long term partner, I guess, you would say, and their child and… I've just been rethinking things really with regards to Aussie English so as you guys may or may not know, I mean you probably know when you look at the number on the front of this episode, Walking with Pete, it's probably going to be. 494, 495, I guess, we'll see when I release it.
You'll see that we are almost up to five hundred episodes on the podcast. Five hundred. That's amazing! I never expected to get this far from the very beginning, you know, I remember starting this maybe three years ago, four years ago now? It was in 2015. So, three years ago, almost four. And initially just thinking, you know, I'm trying to start this up to help friends who were having trouble with Australian English and obviously it has evolved into the beast. The thing.
---
Enjoying Aussie English?
Support AE on

Patreon

today so I can bring you even better content!
---
The thing that it is, Aussie English today, right? With the Aussie English classroom, with all the courses in there, the Aussie English podcast, website obviously, I've got the YouTube channel and then I've got courses that I'm selling as well. So, it's all evolved from there.
And yeah, it's been really good, it's slowly growing, you know, this year it's been… it's been pretty continuous. I'm still sort of, you know, scraping by, I'm not rich by any stretch of the imagination, but it's obviously been able to keep me afloat as in keep me with my head above water financially that is, to be able to keep doing what I'm doing, even though I had finished my PhD last year and decided, you know, I'm going to let this go and I'm going to keep teaching English and keep doing that full time and. Not get a job in the area that I had been studying in for 12 years. So, anyway I'm really proud of myself, proud of the podcast and everything that it is and proud of you, guys, to it for sticking with it. Some of you guys have been there since the very, very beginning and that to me that is really, really impressive and really touching as well because it makes me know that I've struck a chord with you, guys, and I am helping you improve your English. I also want to say thank you to all of you guys who have given me feedback over the years as I've been trying to improve and trying to come up with ways to, you know, innovate, change, teach you guys and do things differently. And so, I've really, really appreciated all of the support and all of the feedback.
Sounds like it's stopped raining. Maybe, maybe for now, anyway. So besides that, the reason I wanted to put this up was because I was thinking about going in a new direction. So, now that we're almost up to episode 500, you've probably got enough resources out there to learn Australian English five times, you know? Like, you've probably got more than enough resources from the 500 or more episodes of the podcasts that are out there all or at least most designers specifically focusing on Australian English and so more recently I had been thinking about changing it up and aiming at everyone and anyone wanting to learn English from say upper intermediate to advanced levels. So, I wanted to sort of shift the focus of this podcast just a little bit and deemphasise how much Australian English is the focus of the podcast and focused more on Advanced Learners of English.
So, I was thinking…just going to go inside..
I was thinking about more potentially interviewing people from all different countries all over the world learning English or speaking English, you know, whether they're from Scotland, Ireland or America. Every now and then I have had them on the podcast recently, but I've sort of tried to get more Australians on that. So, that was one thing that I was thinking about. Switching on to, you know, focusing more on getting other foreign speakers on the podcast. And then also just focusing on the episodes that…I don't know, were… focused on problems that advanced English speakers have, right? So, learning things like collocations or scenarios… Kell has suggested recently we sit down and talk on this podcast in episodes about specific scenarios. So, for instance if you've got to go to the airport what are five expressions you could use at the airport and where would you use them? Who are you likely to need to talk to? What are you going to have to say to be able to prepare you for those sorts of scenarios? And so I wanted to make this episode to let you know, you know, my thoughts see what you guys think and see where you guys would like the podcast to head because, after all, this podcast is there to help you, guys, and to help you improve your English whether it's Australian English or any other English now, you know, hopefully from now on after episode 500 will switch over to something different.
Maybe I'll change the intro and the outro to the podcast. I don't know. I'm just thinking about it, ok? So, anyway I would love to know your feedback. That's probably enough for today's little Walking with Pete episode, but I would love to know what you think, is a really bad idea? Would you prefer that Aussie English stays the way it is or is it a really good idea? And would you like for Aussie English to be a little broader and focus on English accents, English dialects from all over the world? The experiences of people in different countries learning English in different countries? America, New Zealand, Africa, South Africa, as well as more of a focus on advanced English in episodes on the podcast so maybe I'll come up with some new episode themes or content where we'll focus on different Collocations or different Verbs or things that Advanced Learners can use in their day to day life when they're using English.
So, your job today is to send me an e-mail at theaussieenglishpodcast@gmail.com Ok? So, that is theaussieenglishpodcast@gmail.com
I want to know what you think. I want to know your opinion. So, when you receive an e-mail saying that this episode is out, I want you to reply to that email or just go to your inbox and type in theaussieanglishpodcast@gmail.com and send me your thoughts. I want to know what you think. Is it a good idea or is it a bad idea? And I think as, you know, any democracy out there if the majority of you say it's a bad idea, I'll rethink things and maybe stick with what I'm doing, but if the majority of you say, you know, hell yeah! that's a good idea! I guess we'll start changing things up as of episode 501, I guess.
So, anyway, guys, that's enough for today! Thank you so much again. I really appreciate each and every one of you who listens to this podcast, who is in the English classroom learning each week, who is signed up to the podcast site, who's bought any of the courses or who watches any of the videos on YouTube.
You guys are amazing and I wish you guys all the best and I will hopefully see you very, very soon.
Cheers, guys!
---
---
Here's what you get when you sign up!
Read while you listen using the Premium Podcast player.
Understand every word in every episode.
Download all PDF transcripts and MP3s for 600+ episodes.
Get access to bonus member-only episodes.