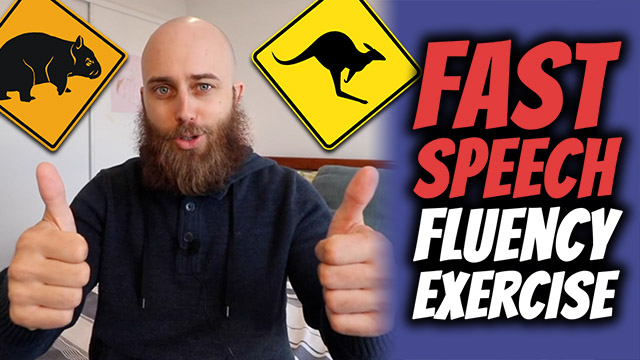 AE 451 – Fast English Fluency Training: 50+ Greetings & Goodbyes
---
---
---
G'day, guys. What's going on? Welcome to this episode of Aussie English.
I'm in the car about to go for a drive, but I wanted to do the intro to this episode.
We're going to be learning fast English, guys, spoken contractions.
How to sound like a native speaker.
We'll be doing it slowly, and then we'll be doing it really fast.
Let's get into it.
G'day, guys. Pete here from the Aussie English Podcast.
Today, I want to train you guys to start speaking English faster.
So, this is going to help your pronunciation, but it's also going to help your listening comprehension when you come across those English speakers who tend to speak a little too fast.
This video's going to help you.
So, I'm going to say these greetings and goodbyes first slow,
I want you to repeat, and then I'll say them fast, and I want you to repeat again.
So, let's give this a go.
---
Greetings:
1. Hi
2. Hey
3. Hello
4. Good day
5. How is stuff?
6. How are you?
7. How is things?
8. How are things?
9. How is it going?
10. How do you do?
11. How is it hanging?
12. How are you going?
13. How (are) you going?
14. How are you doing?
15. How (are) you doing?
16. How have you been?
17. How (have) you been?
18. What is up? – S'up?
19. What is new?
20. What is the news?
21. What is news?
22. What is going on? -> s'goin'on?
23. What is the gossip? -> What's the goss?
24. What is been going on?
25. What is happening?
26. What has been happening?
27. What the latest news?
28. What is the latest (news)?
29. What have you been up to? – Whatcha bin upta?
---
Goodbyes:
1. Tata
2. Bye
3. Bye bye!
4. Goodbye
5. (See you) later!
6. See you later
7. See you soon
8. See you
9. Catch you later
10. Catch you
11. Catch you soon
12. See you later on
13. Catch you later on
14. Chat to you later
15. Chat soon
16. Talk to you later
17. Talk soon
18. Have a good day
19. Have a good one
20. Take care
21. Farewell
22. Peace out
23. Peace
24. See you on the flipside
25. Take it easy
26. Until tomorrow
27. Ciao
28. Adios
29. Au revoir
30. Sayonara
---
So, there you go, guys. That is obviously in an Australian accent.
That isn't every single different combination of greetings or goodbyes.
I'm sure there are other ones.
But this is going to be a big step for you guys to learn to pronounce things more like a native, to get those contractions happening and that spoken English to another level.
Okay? So, keep repeating, keep listening, keep repeating this exercise and eventually these sentences will just come out naturally, or you'll hear them and you'll know exactly what people are saying.
Okay? So, I hope you enjoy this, guys.
If I've forgotten any, make sure that you comment below and let me know, have you heard any other greetings or goodbyes in the English-speaking world?
Chat to you soon!
---
---
Learn More English Connected Speech Here:
---
Here's what you get when you sign up!
Read while you listen using the Premium Podcast player.
Understand every word in every episode.
Download all PDF transcripts and MP3s for 600+ episodes.
Get access to bonus member-only episodes.