Putting 'Aussie' into your English & your life!
Aussie English is all about helping English learners and those getting used to life in Australia.
I create English-learning resources chockablock full of Aussie culture, history, news and current affairs, mannerisms and slang, and everything else related to life Down Under.
My primary objective is to help you adapt to both life and the weird dialect of English spoken in Australia.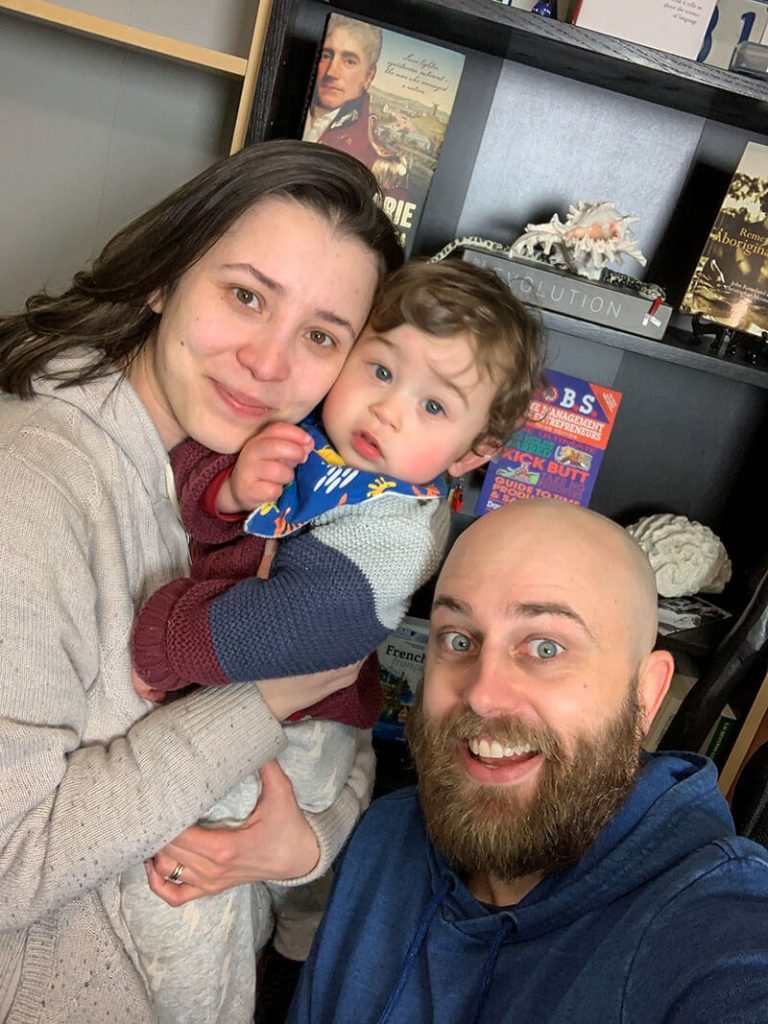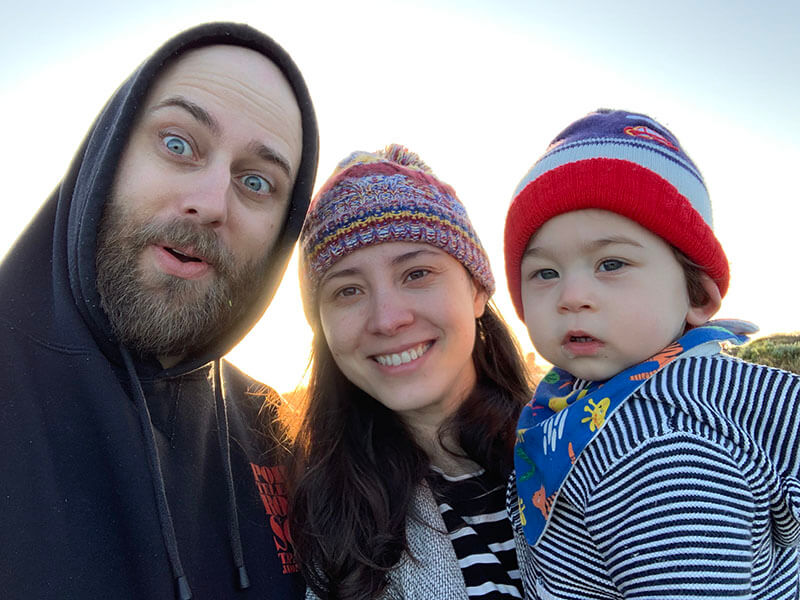 More than just learning English
I believe learning a language involves a great deal more than just studying grammar rules and going to classes.
Advanced learners I encounter generally want more than just the ability to communicate.
Instead, what they really want is to feel in that language, to understand and immerse themselves in the culture, to get the humour, pop-culture references, slang, and mannerism, and as a result, shape a new identity in English fused with their old one.
That is why I do what I do at Aussie English!
In fact, my Brazilian wife, Raquel, has been on that journey for the past 5 years since moving to Australia. She arrived here without speaking any English and understanding close to nothing about life in Australia besides kangaroos hop and there's a big bridge in Sydney.
Looking somewhat shocked in the photo is our Braussie (Brazilian/Australian) son, Noah. We live in a bilingual household, raising Noah to speak both Portuguese and English with the aim of maintaining connection with culture and family.
Anyway, my point is, if you're reading this, you're likely in a similar position. Whether you've migrated to Australia for work, study, or to live, or you're planning on doing so in the future, whatever your story, you want to call this beautiful country, culture, and awesome dialect of English home!
Helping you to achieve your goals of mastering English and adapting to life in Australia is what I'm all about!
"To speak a language is to take on a world, a culture."
― Frantz Fanon
"To speak a language is to take on a world, a culture."
― Frantz Fanon
Aussie English started back in 2015 whilst I was in the middle of finishing my PhD in biology.
At the time, I was living in Melbourne surrounded by loads of friends who were originally from overseas and usually spoke 2+ languages.
I'd studied a few languages like French, Indonesian, and Mandarin Chinese at school, but never became 'fluent' in them.
I decided to study French in my spare time as much as possible using resources like books, websites, YouTube, and podcasts. Podcasts were a game-changer in my language skills!
After 6 months or so, I was using French on a daily basis with friends and other language learners, and finally felt I'd reached 'fluency'.
I became a podcast fanatic and told all my English-learning friends about the results I'd had with French podcasts. However, when it came to Australian English, there were no podcasts on offer.
So, I took up the challenge to create the Aussie English Podcast with the mission of helping anyone learning Australian English and/or adapting to life Down Under.
Fast-forward 5 years later it's my full-time job!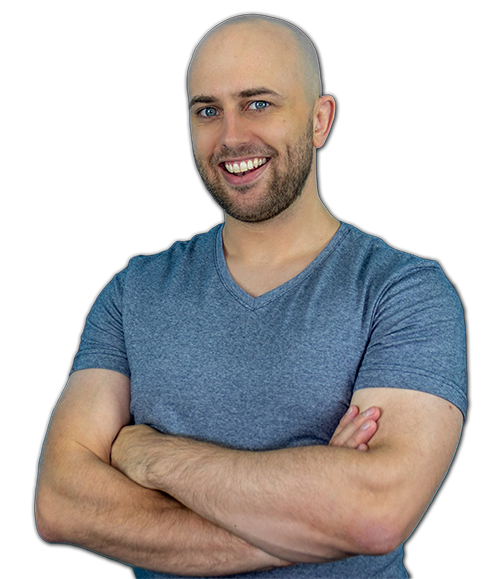 How I Gave Up My Career & Became a Full Time Podcaster
What are students Saying About AE?
The Aussie English Academy is like a vast garden where you are supplied with colourful advice on how to improve and proceed in your way for a better English speaking, understanding, and vocabulary building. All this could not be true without Pete, the Aussie English gardener.
Aussie English Podcast and Academy have been amazing tools to improve my English skills in listening, reading, speaking and grammar. AE Podcast was my first approach to Aussie English in a safe environment almost 4 years ago when I arrived in Australia and since then I've never stopped listening to it. I still remember when Pete started his podcast, and I started following him every single day on my way to work, uni or home. AE Podcast, it's not just a podcast to learn Aussie English but a remarkable place to get to know the Aussie culture and Pete and Kel's lives! Cheers!
The Aussie English Academy is by far the best English classroom I've ever had. Pete is such an amazing teacher with lots of passion about what he is doing. His technique in teaching Aussie English is second to none. I highly recommend the Academy for everyone who likes to speak English like an Australian.
From my point of view, the Aussie English Podcast is the great resource to learn or improve your current knowledge of English. Besides this, you can also gain a lot of knowledge specifically about Australia (history, endemic plants, animals, facts etc.) After 6 months of being Aussie English Academy member, I felt that my English was improved, pronunciation become much better and my listening skills enhanced. So, if you want to be a great English speaker, the Aussie English Academy is definitely for you. At least give it a try and result will surprise you!
For more than 6 years l am actively learning English. I have tried many English learning websites to improve my English, but none of them convinced me to be a membership except the Aussie English. Why? 1. The contents are interesting enough to be followed in your free time. 2. The courses were provided in a way that you can learn the most out of them. They come with transcripts, vocabulary and expression breakdown videos and highlight the important parts. The speed of the video is in a way that you can learn as you watch. 3. You don't need to refer to a dictionary! Everything is in the website saving a lot of time!! Thanks, Pete, for the excellent job.
Well, I must honestly say that Aussie English has become a foundation to learn and explore Australia for me. I had joined the Australian English Academy 6 months back and I have been benefitted by the contents that Pete has been continually bringing in. I had severe problems in listening comprehension when Aussies speak. Even though they don't use slangs much when they speak to non-native speakers, they do speak fast and contract the words. Let me share you one incident that happened when I was pretty new to Australia. I used to work in a restaurant at Darling Harbour. One of the customers (fair dinkum Aussie) approached to the counter and asked for a bottle of water. He said, "Hey mate, gimme a boh of wah". I couldn't understand him initially, but I later came to know that what he meant was a bottle of water when my owner told me. I was then looking for a course that would help me understand the words exactly what Aussies speak. A month after that incident, I found the Aussie English Academy. Pete has been doing a great job for all of us. The upcoming contents that he is working on with regards to contractions while speaking Aussie English is definitely made for me and all of us learning Australian English. Thank you very much Pete from the bottom of my heart. Keep bringing such interesting stuff that will be really helpful in the real scenario in Australia. Have a ripper of a day!
I subscribed to the AE youtube channel from May 2016 onwards and later at the end of the year I joined the Academy. After that time, I worked in the Academy with great pleasure. It is easy to persist in learning if the content, which increased and improved continuously over the years. There are excellent courses for pronunciation, every-day conversation, a variety of expressions and other resources for ESL students. Working on the Academy materials helped me to significantly improve listening comprehension, the understanding of advanced English pronunciation, vocabulary and other skills. I would recommend the Academy to everyone who wants to succeed in English.